Providing care & support for those with life-limiting illness, and for their families, thanks to the generosity from our local community.
St Teresa's Hospice offers palliative and end of life care and support to people with life-limiting illness, and to their families or carers. Our aim is to provide the best possible care for those who need it. The focus of our work is entirely on enhancing the quality of life and helping people live with their illness, as comfortably as possible. We do that through a range of Hospice Services.
There are loads of ways to get involved and support St Teresa's Hospice. From fundraising or volunteering, shopping at your local store or adopting us, your support makes a real difference and allows the Hospice to continue caring.
You can help raise funds in a number of ways. We have a full calendar of events, so you can get involved with the Hospice and help us to raise the £3m that it costs each year to maintain our services. Whatever you decide to do, you will be helping us to ensure that everyone receives the care and support they need.
Read all of the latest news from the Hospice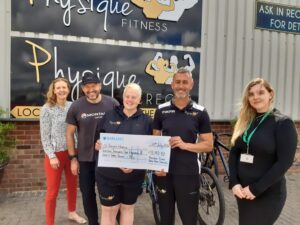 Gym members are celebrating after conquering a major hiking challenge and raising thousands for charity.
Read More